5 Reasons Why Investing In SEO Is A MUST For Your Business
Have you ever googled yourself or your business and found it extremely difficult to find your website on Google's search results? You might even search a very specific product or service that you offer only to find your site buried pages deep in google's search results. There's a pretty simple answer to why this is happening: your SEO sucks.
SEO stands for Search Engine Optimization, which is the practice of increasing the quantity and quality of traffic to your website through organic search engine results. SEO is not only necessary for your business, but it's one of the greatest investments you can make that can have an immediate and long-term impact on your online presence.
Here are 5 reasons why investing in SEO is a MUST for your business
If you enjoyed this article subscribe to our newsletter to be notified when we post SEO tips & suggestions.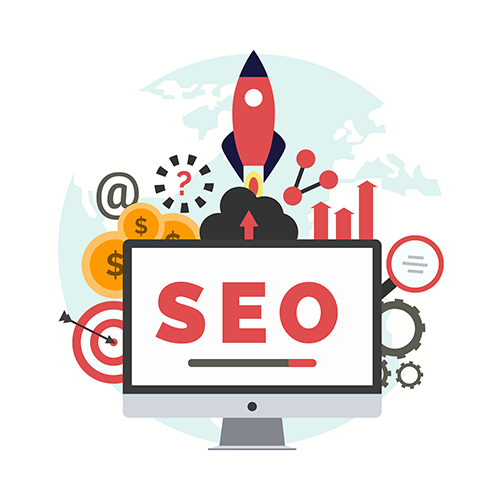 1. SEO is a tried, true and tested marketing initiative
SEO works. In the time it took to write this sentence, Google processed over 1 million searches. By the end of the day, Google will have processed over 5.5 billion searches. That's in one day alone. Every day, more and more people use search engines like Google to find businesses, products, and services. Without a proper SEO strategy in place, you run the risk of losing out on valuable web traffic and revenue for your business.
Traffic = leads and leads = new business.
2. Mobile devices are taking over
It's official. People are now using search engines more on mobile devices than desktops. Years ago, you had to either wait until you were home or at the office to search for products or services. This change is actually a good thing, especially for small businesses.
People now have the ability to search for something they need at that moment, and then either find it online or buy it online. Having your business display near the top of a search gives you the opportunity to make a quick sale or generate an important lead.
3. Higher search engine rankings give your business more exposure & credibility
What do you do when you are looking to make a purchase online or when you're in need of professional services? For most people the answer is research.
3/4 of people using search engines look past paid ads and on to the organic list displayed beneath them. Think about that. People actually prefer to find your business when it's displayed in search results organically. With the proper SEO strategy in place, you can increase the likelihood of having your business displayed on the first page of search engines and capitalize on the more than 75% of individuals who prefer to find your business because of it's offerings, rather than a paid advertisement.
4. Your competition likely has a head start on you
SEO has been around for some time. There are companies that have had a strategy in place for years, and it shows in the search results. But that doesn't mean it's too late for your business. Actually, it's literally never too late to implement an SEO strategy.
Google's algorithm actually prefers newer content, and that makes total sense. Put yourself in the consumer's shoes. Products that may have been popular 5 years ago, might be obsolete today. That's how quickly we're evolving as a society. Optimizing your website to reflect your newest offerings or services is a great way for you to stay current and relevant with search engines.
There are no consumer trends, studies, or data that would suggest that people will stop or become less likely to use search engines when shopping on the web. And although we may occasionally yearn for the days when you had to physically go to a store to compare prices or products, those days are behind us. Investing in SEO now will have a positive impact on your business now and in the future.
If you're confused by SEO or just simply know where to start, we can help. Click here to request a free quote for our SEO services, or simply fill out the form below and a member of our team will be in touch ASAP.
Want to get started with SEO but don't know where to start? We can help! We offer affordable SEO packages for businesses of all sizes. Learn more about what's included by clicking the button below.