4 Reasons Why Blogging Is Crucial For Your Business
As we gear up to launch new websites, we often meet with the respective business owner(s) about their marketing needs moving forward. As you know from a previous post, SEO for your business is an absolute must in today's internet landscape. But as we help our clients develop their SEO strategy for their post-launch initiatives, we often hear the same comments, "I don't think we need a blog" or "Do you think a blog for our business (or industry) is necessary?". To which we emphatically reply, "HELL YES"!
Adding a blog to your website and frequently posting to it should be an important piece of any SEO strategy. Every day, over 2 million blog posts are published. That's a lot. But it's not as much as the 5.5 billion google searches every day! So how can you take advantage of the impressively growing number of Google searches? Well, without an effective SEO strategy in place the answer is you can't, and without an informative blog that promotes your content and services you won't.
We've put together a list of our top 4 reasons why adding a blog to your website is essential for your business and your SEO strategy.
If you enjoy this article subscribe to our newsletter to be notified when we post SEO tips & suggestions.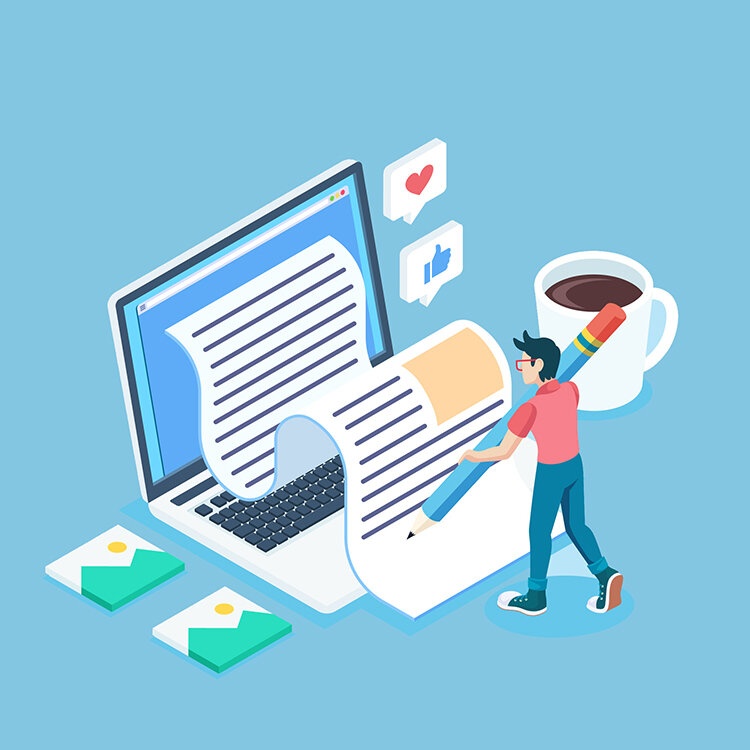 Developed by the SEO software company Moz, domain authority is a search engine ranking score that predicts a website's ability to rank on search engine results pages or SERPs. Domain authority ranges from a score of 1 to 100. The higher your score, the better your website will rank.
Several factors play into domain authority, but one of the most important is the number of links pointing to a site or page. As you begin to post informative content on your blog, readers will trust the content and begin sharing it with their networks, on social media platforms, or even quote snippets of your articles in their posts.
When other websites begin sharing your content, your website is generating what is referred to as a backlink. As Google crawls the web, they catalog or index the content of pages and websites. More importantly, they index the links within pages.
The more backlinks your website has, the more likely search engines will assume you are a trusted expert on the topic. Why is this important? When people search for products or services, search engines will display the most relevant content to that search, and one of the determining factors for this is whether or not search engines believe your website is a relevant, trusted source for that search.
3. Improve Your Bounce Rate
Having an informative blog can exponentially improve your website's bounce rate. Bounce rate is a metric that measures the percentage of people who land on your website and do completely nothing on the page they entered. Website visitors who spend more time on pages and log interactions (button clicks for example), send a signal to search engines that your website's content is informative and useful to search engine users.
Why does this matter? A poor bounce rate is usually indicative of a poorly structured website. How does this relate to blogging? Generally speaking, when an individual clicks on a link to your blog, they are already interested in hearing what you have to say. Producing high-quality and informative content within your posts will improve your bounce rate by keeping the reader on the page longer.
4. Your Content Stays Fresh & Current
Have you ever visited a website that looks like it was built in the stone age? If so, you probably immediately left the site and went to the next link in your search results. Search engines like Google try to avoid showing you outdated or stale content that hasn't been updated over time.
Websites that produce new content and are regularly updated signal to search engines that your website is alive and well. Establishing and maintaining a blog on your website is the easiest way to refresh your content and stay current and competitive within your industry.
Utilizing these free SEO tools will help you work smarter and quicker. They'll give you valuable insight when developing your SEO strategy and allow you the ability to make changes and then monitor the results.
Whether you're an SEO newbie looking for a place to start, or an experienced marketer looking to shake things up a bit, we hope these tools can complement each other to make your SEO initiatives more streamlined and effective.
Want to get started with SEO but don't know where to start? We can help! We offer affordable SEO packages for businesses of all sizes. Learn more about what's included by clicking the button below.